Technology

Lexus Delivery Specialist
Lexus vehicles are built with a variety of amazing technologies and features. Every Lexus Delivery Specialist maintains a high degree of product and technology knowledge, including information about Lexus features, smart phone applications and available resources.
The Lexus Delivery Specialist goal is to provide a "personalized" delivery of each Lexus vehicle, unique to each individual owner's needs. We maintain a commitment to ensure each owner receives a thorough explanation at the time of delivery about their Lexus vehicle's features and controls. Purchasing a new Lexus is an exciting time and we are here to deliver an exceptional Lexus experience with your beautiful new vehicle.
Lexus Technology Specialist
The Lexus Technology Specialist is the dealership associate "expertly" trained to address Lexus vehicle technology questions. As vehicle technologies evolve so will we, by continuing to maintain a high degree of Lexus vehicle technology knowledge.
Available by e-mail, telephone, or in person, the Lexus Technology Specialist is there to make sure our Lexus owners get the most out of their Lexus vehicle.
The process of discovering the features and technologies on a Lexus begins from the moment of delivery and continues throughout the ownership experience. We hope that you will call on us whenever a question might arise. The Lexus Technology Specialist's primary goal is to assist you with resolving any questions you have regarding the technologies in your vehicle.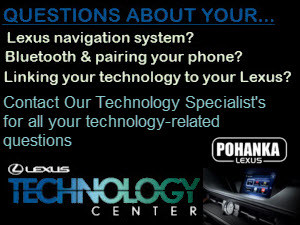 Mitchell Buster
Technology Specialist