Top Dollar for Your Vehicle Trade In near Alexandria, VA

Sales Hours
703.592.4979
| | |
| --- | --- |
| Monday | 9:00 am - 9:00 pm |
| Tuesday | 9:00 am - 9:00 pm |
| Wednesday | 9:00 am - 9:00 pm |
| Thursday | 9:00 am - 9:00 pm |
| Friday | 9:00 am - 9:00 pm |
| Saturday | 9:00 am - 6:00 pm |
| Sunday | 11:00 am - 4:00 pm |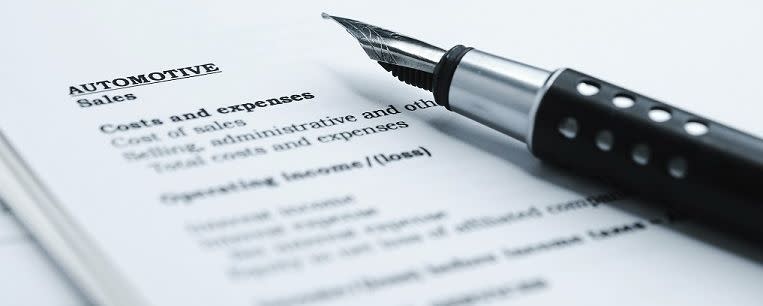 While the prospect of buying a new vehicle is often quite exciting, tackling financing is somewhat less enticing. This is why the Finance Department at Pohanka Lexus is here to lend a hand with our competitive trade-in offers! By applying the value of an unwanted vehicle to your next purchase, you'll walk away with a more affordable contract, so you can more fully enjoy your new set of wheels. Visit us today to get started!
Selling vs. Trading
Since some customers aren't too familiar with the concept of a trade, we'll start by clarifying the difference between this type of transaction and selling. With the latter, you'll simply receive a check for the cash value of the car, truck, minivan, or SUV that you no longer need. Typically, people choose to sell if they no longer need a vehicle and don't plan on buying a replacement any time soon. On the other hand, a trade will apply the worth of your old ride to your next one to make the transaction more seamless. Feel free to give us a call if you're not sure which option is best for your situation.
We're Here to Help!
As soon as you're ready to part with an unwanted or unused vehicle, make your way over to our dealership. Our expert staff will examine the potential trade to determine its current value, then we'll work with you to come to a final agreement. Then, once you've chosen your next trusty companion, we'll apply this figure to the total price to make it easier on your wallet. As a result, you could access a more competitive monthly payment, a lower interest rate, or a higher trim level! In any case, by reducing the amount you need to borrow, you'll save yourself some serious cash in the long run.
Online Trade-in Value
If you're too excited to wait to discover what your trade is worth, we have a tool on our website that can help you get started right from home. Located under both the New and Pre-Owned inventory menus above, the Value Your Trade resource takes some of the guesswork out of this transaction by giving you a glimpse into how we arrive at our appraisal. Essentially, this tool accounts for the make, model, year, trim, and condition of your vehicle to decide how much it's worth. You can add a walk-around video to give our team extra insight into how your model looks, too!
Pohanka Lexus is ready to give you top dollar for your vehicle trade in near Alexandria, VA, so don't wait another moment to take advantage of this competitive offer. Before you know it, you'll be cruising away in a new-to-you ride! We look forward to meeting you here at 13909 Lee Jackson Memorial Hwy. in Chantilly, VA.
Testimonials
GOOGLE
7-6-2020
GOOGLE
7-6-2020
GOOGLE
7-5-2020
GOOGLE
7-5-2020
GOOGLE
7-5-2020
GOOGLE
7-5-2020
GOOGLE
7-2-2020
GOOGLE
7-2-2020
GOOGLE
7-1-2020
GOOGLE
7-1-2020
GOOGLE
6-30-2020
GOOGLE
6-30-2020
GOOGLE
6-30-2020
GOOGLE
6-30-2020
GOOGLE
6-30-2020
GOOGLE
6-29-2020
GOOGLE
6-29-2020
GOOGLE
6-29-2020
GOOGLE
6-29-2020
GOOGLE
6-29-2020
GOOGLE
6-29-2020
YAHOO
6-28-2020
GOOGLE
6-28-2020
GOOGLE
6-28-2020
GOOGLE
6-27-2020
GOOGLE
6-27-2020
GOOGLE
6-25-2020
GOOGLE
6-25-2020
GOOGLE
6-25-2020
GOOGLE
6-25-2020
GOOGLE
6-24-2020
GOOGLE
6-24-2020
GOOGLE
6-24-2020
GOOGLE
6-24-2020
GOOGLE
6-23-2020
YAHOO
6-23-2020
GOOGLE
6-22-2020
GOOGLE
6-22-2020
GOOGLE
6-21-2020
GOOGLE
6-21-2020
GOOGLE
6-21-2020
GOOGLE
6-20-2020
GOOGLE
6-20-2020
GOOGLE
6-20-2020
Read More