Lexus Delivery Specialist
Drivers have varying preferences when picking a car. Some value horsepower and torque the most, others prioritize gas mileage, and so on. But, sometimes clients seek a little extra clarification on components they're unfamiliar with. Enter our specialists.
The Lexus Delivery Specialist provides extensive information on your favorite Lexus model(s) - specifically their latest features - to help you understand how they work. In essence, they ensure you receive a unique, personalized buying experience by explaining and demonstrating how to optimally use the features you're most intruiged about. Whether it's about the model's technology, smart phone applications and/or available resources, we guarantee you'll know the ins and outs of your vehicle after speaking with our team so you can make the most educated purchasing decision. Along with offering thorough knowledge regarding Lexus features, our Specialists oversee the completion of the Pre-Delivery process, assuring all the finest details you requested are set before you even arrive to the dealership for pickup.
Purchasing a new Lexus is an exciting time and we are here to deliver an exceptional Lexus experience with your beautiful new vehicle!
Lexus Technology Specialist
Technology is constantly advancing, and that includes the type you can find in many of today's autombiles. However, keeping up with all of the newest gadgets and gizmos in cars you're looking to purchase can be confusing. If you're feeling a bit overwhelmed and are looking for expert advice on the latest Lexus tech features, our Lexus Technology Specialists are more than happy to lend a helping hand!
Lexus Technology Specialists act as the front-line support for customer inquries revolving around Lexus technology. They will explain all the key functions of Lexus' vehicle tech features in a way you can easily understand, regardless of prior knowledge level. We highly recommend taking full advantage of our expert team if you ever find yourself confused, especially since our Specialists are available via e-mail, telephone or in-person!
By the time you've finished consulting with our Specialists, we confidently believe you will be able to get the absolute most out of your Lexus. Feel free to contact us to set up an appointment today for any questions or concerns you may have!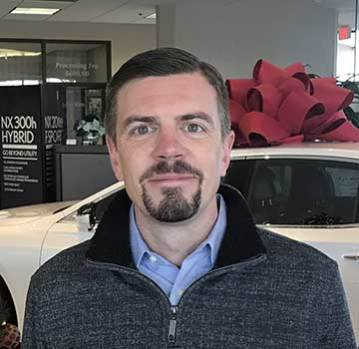 Chris Coffman
Lexus Technology Specialist

Service Hours
703-592-4985
| | |
| --- | --- |
| Monday | 5:30 am - 11:00 pm |
| Tuesday | 5:30 am - 11:00 pm |
| Wednesday | 5:30 am - 11:00 pm |
| Thursday | 5:30 am - 11:00 pm |
| Friday | 5:30 am - 11:00 pm |
| Saturday | 5:30 am - 11:00 pm |
| Sunday | 5:30 am - 11:00 pm |